The Studley Park Boathouse
by Jocey
(Brunswick)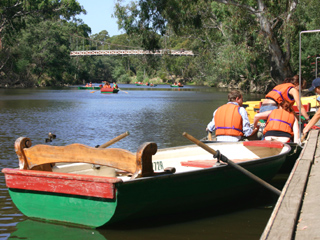 Row Boats at Studley Park Boathouse
We love Studley Park Boathouse. It holds a long tradition of picnics and outings within our family. It is situated on the Yarra River in Kew, and not far from the city.

To get there, you can drive there along the Yarra Boulevard or along Yarra Bend Road from Fairfield. If you come from Yarra Bend Road, your car crosses the 'hanging bridge', which the kids always love.

The boathouse is down on the banks of the River. It is really serene down there. Kids can bring their scooters, bikes and they'll especially love crossing the hanging bridge and feeding the ducks. An extra special treat is to hire a rowboat or canoes.

They let you take the boats under the hanging bridge up river where there are birds and trees hanging over the water, and lots of things to see.

The boat house is one of the original 1860s Melbourne icons. At the kiosk you can get coffee without burning the family budget, and it's good! There are also tables and chairs overlooking the river – pretty nice.

There is also a café and classy restaurant which is a little on the pricy side, but does look tempting.

Studley Park Boathouse is a place where kids can still be in nature and don't have to be entertained (that's a relief to any parent). They are just as happy playing with sticks and running around and don't usually want to leave. Really highly recommended!