Things to Do in Melbourne -
Leisure and Adrenalin Activities
If you are looking for activities, there are many things to do in Melbourne that will keep feel alive and engaged, and that keep you fit.
From golf, to hot air balloon rides, to bike tours, to beaches and extreme adrenalin experiences.

Ballooning Melbourne or the Yarra Valley
Melbourne is one of the few cities in the world where you can balloon right over the city. A balloon trip is one of the special things to do in Melbourne. Many locals have been ballooning Melbourne, at least once.
The flights are at sunrise, up to an early start before the winds set in. There is a magic in gliding across the waking city that makes it all worth it – and that makes you appreciate the natural beauty of Melbourne even more.
There are also balloon flights over the Yarra Valley, giving you a tranquil experience over the hills, vineyards and forests. Most flights are champagne balloon flights rewarding you with a luscious breakfast on return.
Cycling Melbourne
One of the most popular things to do in Melbourne is exploring it by bicycle. Melbourne is, at least for Australian standards, a very bike-friendly city. At any given day you'll see hundreds of people commuting by bike. Melbourne has a well developed network of bike trails that link into each other.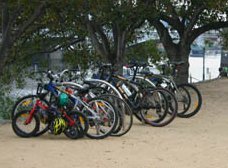 On the weekend a popular Melbourne activity is enjoying its green corridors, the Yarra, local creeks or Bay from some of the numerous Melbourne bike paths. This is one of the best ways of seeing Melbourne: You don't rush past things to fast and get to smell, see and really experience the scene. There are bike hire places at various central places throughout the city and along the Bay.
You can also explore many parts of our State and bike Victoria, as many old rail tracks have been transformed into attractive easy to ride rail trails that give you an intimate and unique experience of Victoria's countryside.
Water Activities
Being located along the Yarra River and Port Phillip Bay that provides shelter from the Southern Ocean, many of the most tranquil and exhilarating things to do are water activities in Melbourne.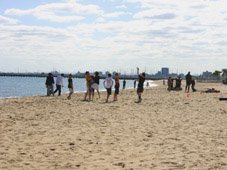 There is sailing, with numerous boat hire opportunities, yacht clubs and Melbourne sailing schools along the eastern and western sides of the Bay. For beginner sailers and kids Albert Park Lake is a great place.
There are plenty of Melbourne beaches inside and outside the Bay. They start at Port Melbourne and stretch through the famous St Kilda and Brighton right along the Bay to Sorrento, and the surf beaches to the east and west of Port Phillip Bay.
Surfing, Victoria is firmly placed on the international map of famous surfing locations. It may be cold but you get the unique opportunity to catch the large winter swells created in the Great Southern Ocean and Bass Straight.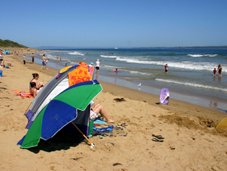 If you are into snorkelling or scuba diving, Melbourne offers plenty of opportunity. It has a very unique eco system of the Bay opening into the Great Southern Ocean. You have the opportunity to see rare marine life, such as soft coral and the sought after Weedy Sea Dragons. There are also opportunities to watch or swim with seals and dolphins near Melbourne in the Bay.
Canoeing and kayaking are some other water activities in Melbourne, with opportunities to experience its ambience and marine life from the Yarra and in the Bay. Kiteboarding and Stand-up Paddle Boarding have become very popular in Melbourne, with plenty of opportunities to try it out with some lessons.
You can also go for game fishing adventures, catching snapper, giant flathead, squid elephant fish or shark in the Bay.

And if the weather really is too cold or wild to do any of the above and you can't stay away from the water, there are a number in and outdoor Melbourne swimming pools.
Golf
It is easy to spend a whole holiday testing yourself at Melbourne golf without going over the same grounds again. There are many famous golf courses, such as the Yarra Yarra, one of Australia's oldest and premier private golf clubs, as well as a whole range of courses on the Mornington Peninsula - some of the with the most stunning ocean and bay views.
But these just flank the whole array of golf courses closer to Melbourne, towards the east and west, all guaranteeing you a superb game.
Flying and other Adrenalin Experiences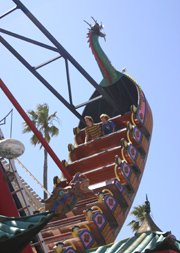 If you like to challenge yourself and charge at life hard and fast, there are many extreme Melbourne experiences that really get your adrenalin going. You can go skydiving, drive a rally car, go off-road racing, or go on a Harley Davidson tour.
You may go on a 4WD adventure across the mountains and rivers of the high country, go white-water rafting - or rock climbing, abseiling or caving for a more serene experience.
Or you have the opportunity to hit the sky and take the pilot's seat of a plane, fly a jet fighter or helicopter, or do aerobatics in a light aircraft. You can also go gliding or fly an aerochute (a paraglider with a small engine).
Skiing and Snowboarding - or Horse Riding
If you like snowboarding and skiing Australia has snowfields, with the Victorian ski areas being the largest and most extensive. While it does not quite live up to the snowfields in the northern hemisphere, the fun makes up for it and it is exciting to ski the large networks of downhill runs at Mt Buller, Mount Hotham and Falls Creek.
For children and beginners Mount Baw Baw is perfect with its slower pace and easier slopes. And there are cross country ski areas at Mt Stirling and Lake Mountain.
Snow cover is the main issue with Australian ski resorts, so it is worthwhile checking the snow report before you go up.
The High Country is also great for exploring on horseback during the warmer month. Another great place for horse riding activities is along the Great Ocean Road beaches.
Kids and Family Activities
If you are wondering what things to do in Melbourne with the family, there are a few kids' favourites you can never go wrong with. These are Luna Park, the Melbourne Aquarium and then there is not just one Melbourne Zoo , but three.
But to entertain the kids, you don't have to spend the earth. There are many things that are free or relatively cheap - check here for things to do in Melbourne that are free.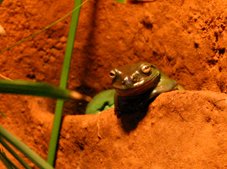 It is relatively easy to bring up children in Melbourne, because of the plentiful natural environment and things to do.
There is the children's garden at the Botanical Garden, a day at Ceres sustainable farm and education centre, or the Collingwood children's farm and many more kids activities Melbourne.
Corporate Team Building Activities
Team or extreme activities can help create synergy in a group and natural affinity between its members, with the result of greater effectiveness and motivation within the team.
There are various corporate team building activities and group things to do in Melbourne, from corporate sailing, to big game fishing, to GoKarting or a Harley Davidson tour – many possibilities of bringing passion and excitement back into work environment!
If you love challenging yourself and experience life to the fullest, you find ample opportunity and activities Melbourne has on offer to test your skill and courage.
---
---
Do you like this page? Why not pay it forward with a Facebook 'Like' or Google