Melbourne Australia Hotels
There is such a variety of Melbourne Australia hotels that we have broken them into categories.
You might want to stay in a cheap hotel , in one of the more intimate Boutique hotels or a luxurious 5 Star hotel in Melbourne.
Or, many executives, as well as families on holiday, prefer to stay in a serviced apartment , where you can get a less expensive quality stay. So really your first choice is what type of accommodation you want.
For discounted Melbourne Hotel rates, as well as last minute bookings - guaranteed best prices, secure bookings and No Reservation Fees - you can book your hotel here.
Medium Priced Melbourne Australia Hotels
Citigate Melbourne Hotel opposite Flinders Street Station with Yarra views.
Crown Promenade Hotel Melbourne - spacious hotel in the Southgate entertainment complex.
Hotel Causeway Melbourne x3 - an attractive boutique hotel, a stylish 4 star, and an affordable Inn.
Sebel Hotel Melbourne - affordable self-contained suites in a landmark building in the heart of the CBD.
Hotel Grand Chancellor Melbourne - a very well priced 4 star hotel, with great servic, comfortable rooms and also eco-friendly.
Rendezvous Hotel Melbourne - a grand historic4.5 star hotel opposite Flinders Street Station. It was built in 1913 and is now a restored and stylish heritage listed hotel with modern facilities.
Sebel Albert Park - ideal location between the city and St Kilda, overlooking Albert Park and Lake, and Port Phillip Bay.
Where to Stay in Melbourne
You probably also want to choose a hotel location to suit your travel plans. By far the largest hotels would be Melbourne CBD accommodation , right in the heart of the city.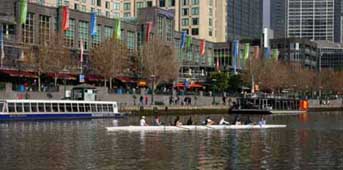 There are Melbourne Australia hotels in the lanes, which give you the intimate Melbourne feel, and there are the hotels in the main city streets. Either way, you are right in the middle of it all. This is exciting – or too much for some.
On the south side of the river, you will get more space - perhaps river or park views - and more sense of getting away from it all. However, it is not quite as 'Melbourne' there, but nevertheless only a short walk across the Yarra to the city.
If you don't want to be in the city, a popular area to stay is near the beach in St Kilda with its palm-lined foreshore and views of Port Phillip Bay. In St Kilda you have Luna Park, the famous German Cake shops, bars and pubs and well as great shopping.
---
---
Do you like this page? Why not pay it forward with a Facebook 'Like' or Google