Your Melbourne Transport Options
Melbourne transport is something that gets complained about a lot. It is strained with the city bursting at its seems and an increasing number of people.
But really, compared to many places, the public transport system functions quite well, you can get around really well by bike, and car travel is easy, except in peak hour.
If you are from Europe or any other densely populated country, you will find that distances take on a different meaning in Australia, especially for drives around the country:
If you get directions and an Australian says 'it's just around the corner' or 'not far' be prepared to find yourself driving for quite a while wondering if you missed the turn or landmark. Many Australians are willing to travel long distances and think not much of it.
Melbourne public transport
For Melbourne transport around the city and surrounding areas Melbourne public transport is a great option.
You won't need to worry about parking and can get easily from place to place by tram, bus or train. Melbourne taxis are always there to take you home as well.
You definitely don't want to miss a trip on a famous Melbourne tram . It's an interesting Melbourne transport option. You'll get a feel for Melbourne's life and soak up the atmosphere. Just avoid the peak hours.
Travel Melbourne by Bike
Most days of the year, to bike Melbourne is a preferred form of transport for many. Since the rise of environmental awareness in the 1970's, bicycles have been an integral part of Melbourne life, both as a means of transport and for recreation.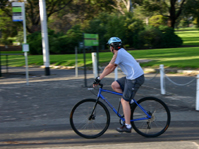 As it is mostly flat, there are many well laid out Melbourne bike paths along the creeks, the Yarra and the Bay that make bike communiting, and days out on the bike, a pleasure. It definitely beats the peak hour blues.
In the CBD, Carlton and South Melbourne you can now use a bike for short trips as part of the Melbourne Bike Share scheme. This is a cost effective and pleasant way for short city trips. For a small fee you are able to ride a bike from one of the 50 bike share stations and to another.
You can also bike Victoria - a very pleasant way of experiencing the country-side. Many old rail tracks have been transformed to bike trails that are easy to ride and take you through breathtaking scenery.
Car Travel
If you want to visit the surrounding areas travel by car would be the best Melbourne transport mode.
Even more so, if you wanted to visit Victorian country destinations or other Australian cities. I would recommend car travel - if you have time. Remember, it is a vast land that takes time to explore.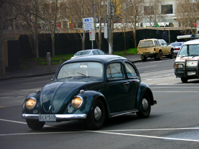 A car will give you the flexibility to stop wherever you like, and get to the tucked away special places of interest.
There are great coastal drives you can take from Melbourne Australia to Sydney, and also from Melbourne to Adelaide - if you have a few days, and time to stop at the attractions or National Parks on the way.
If you are shying away from driving yourself, organised tours and daytrips can be a great option to see the attractions surrounding Melbourne.
Melbourne transport by Train, Coach or Plane
Travelling by train or coach across Australia, you tend to miss the interesting places.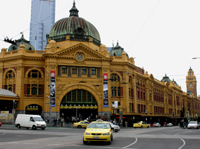 On my first trip I travelled to Melbourne from Perth by coach. I felt that I had entirely missed the Nullarbor (long desert between Perth and Adelaide), but instead had become very familiar with roadside stops and railway stations – greasy chips and pies.
While you can get a sense of the vast Australian distances with barely any habitation gliding by, I find train and coach travel exhausting, especially on and long trips. It takes about 11 hours to Sydney or Adelaide. Furthermore it is not much cheaper than by plane.
If you are pressed for time and want to continue your travel in Australia, you can get cheap airfares Melbourne to the other major cities. Best fares are usually available mid-week, and best booked at least a week in advance for cheaper deals.
While there are many Melbourne transport options, don't forget, to get your accommodation organised. If you are here for one of Melbourne's celebrations, like a major sporting event, Melbourne Australia hotels can be hard to come by.
Here is a great video of a day in the life of Melbourne:
---
---
Do you like this page? Why not pay it forward with a Facebook 'Like' or Google