Melbourne Aquarium –
Gateway to the Great Southern Ocean
The Melbourne aquarium is Australia's only Southern Ocean Aquarium, which means that there are species that you cannot admire elsewhere.
You can be with arctic penguins in action and get among sharks, giant stingrays and sea turtles without getting wet – and even dive with the sharks.
It is home to seahorses, sea dragons and over 10,000 other ocean creatures.
Aquarium Attractions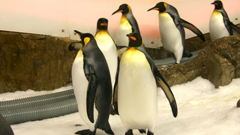 In the new large Antarctica display you cab be right with the majestic King and cheeky Gentoo penguins while they are playing in the pool and slide across the snow-covered ice. You get pretty close and it's hard to pull yourself away - very impressive.
In the weird & wonderful displays, there are strange marine animals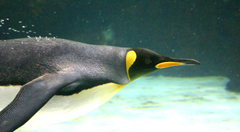 that don't exactly behave how you'd expect. There are colour-changing cuttlefish, spiky lionfish, unique weedy sea dragons, armour-carrying crabs, and even Nemo.
In the River to Reef displays you can take a journey through a wild jungle with extraordinary aquatic animals, beautiful waterfalls and spooky caves. There are rainbow fish, turtles, snakes, catfish, barramundi, deadly poison arrow frogs and Australia's largest freshwater fish – the Murray Cod.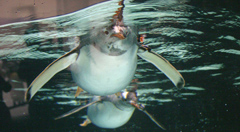 A main attraction is the Oceanium where you can walk through an underwater glass tunnel and can get amongst sharks, sting rays and sea turtles, with sharks circling over your heads… This gets even more exciting during the daily feed times when divers feed these predators from inside the tank.
A new attraction is the fascinating Giant Pacific Octopus. You really get a sense of their intelligence and strength. Then there are the enchanting Sea Jellies in their own specially designed UV-lit room.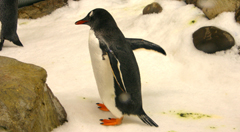 The aquarium is well worth a visit and a must-see with kids. It has a lot of interactive activities like seeing the world through the eyes of a fish, and a rock pool where you can touch starfish and sea urchins…
For the Brave and Daring
For a real adrenalin experience you have the opportunity to dive into the deep and get to swim face to face with the sharks at the Melbourne aquarium. You don't need to be an experienced diver to do this. For those not wanting to dive there is the new Shark Walking experience where you don't even get your hair wet! The Melbourne aquarium gives the chance to walk underwater, while breathing through a custom-made Shark Walker helmet.
Allow about 2-3 hours, so you won't be rushed. For a family of four the aquarium entry will cost you around $90, for a single person it's in the $30s. There is no need to book, but entry is much cheaper with the Melbourne Sightseeing and Attraction Pass.
Organising Your Visit
You can get into the aquarium much cheaper with the Melbourne Sightseeing and Attraction Pass. This is available for short stay tourists, and also for locals who can visit five Melbourne attractions at much reduced rates over a 3 month period.
Alternatively, you can skip the line and buy your tickets at a discount here.
The Melbourne Aquarium is on the corner of Flinders Street & King Street. It is a short walk from the city centre or from Southbank, or from either Flinders or Southern Cross train stations. You can also get there with the free City Circle Tram or any other Flinders Street tram.
---
---
Do you like this page? Why not pay it forward with a Facebook 'Like' or Google