About Us &
Why this Melbourne website
We fell in love with Melbourne, and this is how our site was born in 2007. Melbourne is a happening and exciting place to be. It has something special and is growing steadily as a world-class city that can hold its own among other international favourites.
We trust that We Love Melbourne is able to provide a glimpse of an insiders' view of Melbourne.
It is designed for visitors who want to delve into Melbourne far more than skin deep, and for locals seeking to explore another aspect of our great city.
Our aim is to provide upbeat and genuine information of what it is that we love in our city - to pick the gems for you to see and experience. It is not a site that lists everything. We focus on the unique things that make Melbourne, Melbourne - for us.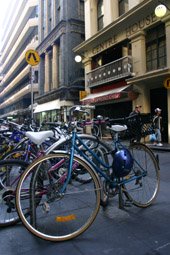 Yet, as we are not able to experience all worth talking about, we are seeking contributions and partnerships with locals, businesses and artists that can offer that special extra 'Melbourne' thing from their experience. With that, we aim to provide exposure for upbeat Melbourne creators, artists and businesses.
Use the contact form below if you are interested in contributing an event or place.
It is the layers, variety and the specifics that make Melbourne interesting. For a new visitor there is more than walking through its main streets, and for those more familiar there is more than having coffee in a lane. As our site grows we are focusing on the details, the special people and businesses that make Melbourne the vibrant place it is.
One outstanding characteristic we love about Melbourne is that - whatever area people are engaged in - Melburnians seem to love their niche and play an enthusiastic 'game' within it. This is what we seek to capture.
We Love Melbourne is a collaborative project. Each contributor has a different focus and a different love in a different Melbourne niche. This gives us a somewhat wide experience. Our interests lie in the arts - visual art, design; music - especially soul and world music; bike touring and outdoor experiences, family activities, and sports events. Overall, we love Melbourne's cultural vibrancy.
Melbourne is the home of our choice. We have travelled, seen the world and lived in various European and other Australian cities. Our background is German - in the alternative and artist scene of Frankfurt and Berlin. We have missed this sort of thing in Australia, and are over the moon to have found it alive and well in Melbourne.
We appreciate the quirky and original and - through our own insider-outsider view - are perhaps able to see things afresh or differently. Together, we love our music, cafes, artists markets, books, quirky stuff, photography, art galleries and festivals, bike trips, St Kilda pier, the Yarra and creeks, surfing, gigs, and the occasional theatre.
We endeavour to keep you up to date about what is happening in Melbourne: the quirky, the fun and the cool.
To stay in touch with our updates, please subscribe to our RSS feed, or follow us on Facebook
The Creation of This Website
We have created this website without much technical knowledge, without being web designers or computer wiz, by using a successful program developed by SBI!, which we highly recommend.
We Love Melbourne has not been a walk in the park, but has taken commitment, work and persistence - but this is all! And that has largely been fun!
It continues to steadily grow. We are at a point where we are welcoming other's contributions, and are now of offering direct advertising opportunities. .We are constantly creating and updating our content.
Best Wishes,
The We Love Melbourne Team
Please use the form below if you are interested in being featured or contributing
---
---
Do you like this page? Why not pay it forward with a Facebook 'Like' or Google