Melbourne Markets –
Bargains, Creations & Atmosphere
Melbourne markets invite to hang out, be entertained, have coffee and meet friends.
They are also the places to shop for a bargain, fresh and organic produce, vintage clothes or something specially 'Melbourne.
There are markets for general produce, farmers, art and craft , second-hand and fashion markets.
General & Produce Markets Melbourne
In the last decade Melbourne Farmers Markets have become extremely popular. They bring you fresh food direct from the farm, and help you avoid commercialised produce.
Then there are the general and produce markets Melbourne has on its calendar, where many locals traditionally have done their weekly shopping.
These are great for a bargain, souvenirs, cheap 'designer' goods, fresh fruit and vegetables, meats, fish, organic foodstuffs, European meats, less expensive seafood, and Mediterranean delicatessen.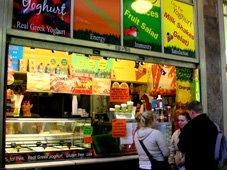 They are also places with the old fashioned 'market atmospheres', spruikers, good coffee, buskers, and interesting things such as live ducks and chicks…
The most famous and well-know of these markets is the Queen Victoria Markets Melbourne. It is locally know as the Vic Markets and has been operating in it original halls since 1878. It is the largest Australian and the largest of the markets in Melbourne.
The Vic market was the first to introduce summer Night markets Melbourne. These have now spread successfully to other venues. What makes them so attractive is their informal atmosphere, entertainment by local bands, an amazing array of multicultural foods, bargains, delicatessen. They make a great evening out, and are more a like fair.
Other Melbourne Markets
As part of the vintage craze sweeping Melbourne there are a number of Melbourne Vintage markets that have sprung up - many in bars and hotels, combininging it with cosy food and music events.
If you enjoy garage sales and treasure hunting, there are some other pre-loved trash & treasure Melbourne markets, where you can land real bargains in recycled home wares, vintage and re-cycled designer clothing, old records, trash and treasure and bric-a-brac. There is even a pre-love book market.
Another important part of Melbourne's life, are the numerous Melbourne art & craft markets. The dearest to me, is the Rose St Artists Market, as it offers only original art and craft - and commercial goods are screened out.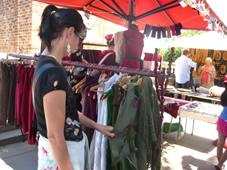 Other art and craft markets are on the St Kilda Esplanade and along the Yarra next to the Arts Centre, on Sundays. Many other local markets run at different times throughout the year, especially before Christmas.
There are also less infrequent markets, such as the Up and Comers Fashion Market during the Melbourne Fashion Festival. This features the creations of Australia's most talented clothing and accessories designers.
There is the Australian Fashion & Designers Market, Finders Keepers, that brings original work of Australia's best designers to Melbourne twice a year.
---
---
Do you like this page? Why not pay it forward with a Facebook 'Like' or Google