Original Arts and Crafts
at Melbourne Markets
There is a growing number of interesting Melbourne markets that specialise in arts and crafts – met by a growing number of people who appreciate the unique, eclectic and beautiful.
These markets are great outlets for emerging and established arts and crafts people and this is where you can find original goods and creations.
Many also have character, atmosphere and good coffee, making them great places to hang out or spend an afternoon.
Each of the Melbourne arts and craft markets is quite different – so where you'd go really depends on you and what you are looking for:
Rose Street Artists Market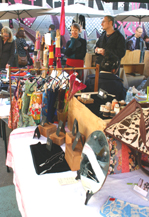 One of our favourites is the Rose Street Artists Market . This is located in Rose Street, Fitzroy, and open Saturdays and Sundays. This is where you will find a lively community of interesting artits and crafts people.
Fitzroy is the hub for eclectic and bohemian artists and designers. At this market they have the opportunity to showcase and sell their work without any middleman.
Strolling through this market is engaging. The goods are original, unique and genuine, and you usually get into a good chat with any of the presenting artists.
The Esplanade Market – St Kilda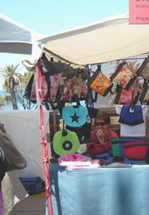 The Esplanade Market St Kilda is on every Sunday. It was one of the first Melbourne markets established as an outlet for local artists. It now has almost 200 of Victoria's best artists and craftspeople selling their work directly to the public.
It is popular with locals and tourists alike. You will find a diverse range of quality handmade artworks made from wood, glass, paper, resin, recycled materials...
A great place to stroll through with spectacular views over the bay! All artworks displayed are made by the stallholder. Along the St Kilda Esplanade on Sundays.
The Arts Centre Sunday Market
At the Arts Centre Sunday Market has over 80 stalls of fine arts and crafts from around Victoria. It is located just across Princess Bridge from Federation Square along the Yarra. It is on every Sunday.
Stallholders are selected for quality and diversity of their work, which gives you a wide range of unique treasures to explore, such as antique kaleidoscopes, silks, ceramics and wood sculptures, artwork, leadlight, capes, scarves and hats…
Both the St Kilda Esplanade and the Arts Centre Melbourne markets have a bit more of a tourist focus.
Once-a-month Art & Craft Markets
Makers Market at the Convent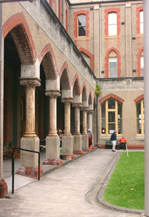 This Makers Market showcases the creations of local artists and craftspeople, including paintings, photography, textiles, print, wood, ceramic, jewellery, clothing, sculpture, paper, accessories, toys and more.
There are demonstrations where you can learn the working processes of how it is done – and we were even entertained by a Jazz Quartett. The convent is a great place to go for a relaxing Sunday afternoon. The café has regular entertainment…
3rd Sunday, Abbotsford Convent, 1 Heliers St, Abbotsford.
Charles Street Artist Market & Workshop
This is the latest market to hit vibrant Brunswick. With live painting, roving entertainment, food and drink, it is not just an artist market, but a unique open studio experience. Its focus is on emerging, local talent and all things creative. With live music and live art, and the nextdoor pub's food and drink, it has a vibrant carnival vibe where people come and hang out.
Last Sunday of every month, The Sporting Club's carpark, Charles Street (off Weston St), Brunswick
Hawthorn Craft Market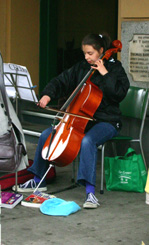 The Hawthorn Craft Market is one of the first original makers markets.
It is on the first Sunday of each month. It has been relocated to the Atrium at Swinburne University. It's a short walk from Glenferrie station.
Hawthorn is a classy eastern suburbs, and this market is more conservative. It fosters local talent with musical entertainment.
There is an abundance of exhibitors filling 2 townhall halls, selling their crafted and home made wares, such as fabrics, toys, jewellery, glass, and much much more.
It is well worth a visit and a great place for hand-crafted gifts. Here is more info on the Hawthorn market.
1st Sunday, The Atrium, Swinburne University, John Street.
The Ivanhoe Makers Market
This market used to be called 9" x 5" and has become one of the established Melbourne markets for makers and artists. It is an outlet for local artists and arts incubator. It is held every third Saturday.
It showcases the works of over 30 local artists and designers, offering unique handmade wares such as textiles, sterling silver, jewellery, ceramic art, glass, handcrafted cards and, paintings, patchwork, handbags, accessories.
3rd Saturday, The Livingstone Community Centre, 1 Livingstone St, Ivanhoe.
Yarraville Markets
The Yarraville Markets are charming and beautiful - every 2nd Saturday and Sunday of each month. It's worth just coming for the quaint and friendly village atmoshpere!
This is one of the quality Melbourne markets showcasing artists and designers with their handmade works. It is a charming place and worth the visit.
2nd Saturday & Sunday, at the Masonic Hall, Yarraville.
Williamstown Craft Market
Every 3rd Sunday of each month, the Reserve along the pier off Nelson Place in Williamstown is transformed into a market for the hand-made and home-grown.
Williamstown is a great old bayside town, with no shortage of culinary and visual delights, live music during those market days.
3rd Sunday, Williamstown Waters Edge.
Sisters Market
These markets are on every few months - and more often before Christmas - at Brunswick and Northcote. They are a great place to browse for a new find, meet the makers and an abundance of crafts and creativity - offering clothing, accessories, artwork, homewares and more.
Brunswick and Northcote Townhalls
Maribyrnong Makers Market
The Maribyrnong Makers Market is on a few times a year and provides a forum for local artists and crafts people, with an opportunity to promote and sell their hand made products and showcase their beautiful and high quality work.
On a few times a year at the Uniting Church, Seddon. Check here for times.
A Makers Gallery in Fitzroy
In.cube8r is a gallery in Fitzroy to support all things craft, art and handmade. It is like a long-term market that gives artists an outlet for their creations.
Great place to go for gifts, accessories and embellishments.
321 Smith St, Fitzroy.
Once in a While & Seasonal Arts Markets
Markit@FedSquare
Markit@FedSquare is a biannual curated design market focusing on illustrative and decorative based design products including fashion, jewellery, homewares and stationery. You can meet the designers, chat about their products and find something unique and special.
Every other year, at Federation Square
Winter Arisans' Market
Local design and handcrafts, handmade items, blacksmithing, ceramic whell throwing, raku firing, kid's painting - designer fashion, jewellery, toys, bags, chocolates, beauty products. Great place to enjoy local talent, and beautiful things, as well as live music.
It's on over 4 Saturdays: second half of June and first half of July, at Northcote Townhall.
---
---
Do you like this page? Why not pay it forward with a Facebook 'Like' or Google