Australian Open - a great Melbourne's Sporting Events
The Australian Open is one of Melbournes great sporting events - and the first international Grand Slam tennis tournament of the year. It is held in January in Melbourne, Australia.
The big names of tennis converge on Melbourne during this time - and if you're lucky you'll spot one of them at the airport or in town.
The Australian Open 2012 is held from January 16-29. Novak Djokivic and Kim Clijsters will be defending last year's title.
Typical of Melbourne sport's madness, the last year's Australian Tennis Championships achieved the highest ever single-day day/night attendance record for any Grand Slam tournament, with 77,043 spectators.
If you are from interstate or overseas, make sure to book a hotel early as they get booked out during this time. Check here for best hotel deals.
The tournament consists of mens and womens singles; men's, women's, and mixed doubles; junior's, wheelchair, exhibition and legends' competitions.
Held in the middle of the Australian summer, it is subject to extremely hot days. A retractable roof over the main courts can be shut when temperatures reach dangerous levels.
Australian Tennis History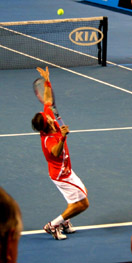 Before 1905 all Australian States and New Zealand had their own championships. In Melbourne, the Championship of the Colony of Victoria was first held in 1880.
The first 'Austrailian Open' was played in 1905 at the Warehouseman's Cricket Ground in St Kilda Road, Melbourne - first as the Australasian Championships, then as the Australian Championships in 1927, and then as the Australian Open since 1969.
It was not just a Melbourne-only event, but rotated around a number of Australian and New Zealand cities - Melbourne, Sydney, Adelaide, Brisbane, Perth, Christchurch and Hastings.
However, Melburnians love their games and in 1972, when it was decided to stage the Australian Open in the same city each year, the Melbourne Kooyong Lawn Tennis Club was selected because of Melbournes high patronage.
In 1988, Melbourne Park was constructed to meet the growing spectator demands. This was an immediate success, with a 90 per cent increase in attendance.
The Rod Laver Arena is the main Melbourne Park court. It was originally called Centre Court, but was renamed in January 2000 to honour Rod Laver, a three-time winner of the Australian Open and one of worlds greatest tennis players.
Australian Open Champions
From 1905 to 1976, the Australian tennis championships where dominated by Australian victories. Only 9 men and 10 women from other countries - US, England, France and Peru – became victorious in those 70 years.
The Championships have since become much more international. However, unlike in other sports, Australian tennis has not kept up that dominance. Since the seventies, the Australian Open has been dominated by a changing array of international champions.
Many of champions have won this Melbourne tennis event more than once, some three times and some even four or more times. Here is a list of the great names of tennis who have won the tournament 3 or more times:
MEN'S
James Anderson (Australian) – 1922, 1924 and 1925;
Jack Crawford (Australian) – 1931, 1932, 1933 and 1935;
Mats Wilander (Swede) – 1983, 1984 and 1988;
Andre Agassi (US) – 1995, 2000, 2001 and 2004;
Roger Federer (Swiss) – 2004, 2006, 2007, 2010.
WOMEN'S
Daphne Akhurst Cozens (Australian) – 1925, 1926, 1928, 1929 and 1930;
Joan Hartigan Bathurst (Australian) – 1933, 1934 and 1936;
Nancye Wynne Bolton (Australian) – 1940, 1946, 1947, 1948 and 1951;
Margaret Smith Court (Australian) – 1960, 1961, 1962, 1963, 1964, 1965, 1966, 1969, 1970, 1971 and 1973;
Evonne Goolagong Cawley (Australian) – 1974, 1975, 1976 and 1977;
Martina Navratilova (US) – 1981, 1983 and 1985;
Steffi Graf (German) – 1988, 1989, 1990 and 1994;
Monica Seles (Yugoslavia, US) – 1991, 1992, 1993 and 1996;
Martina Hingis (Swiss) – 1997, 1998 and 1999;
Serena Williams (US) – 2003, 2005, 2007, 2009, 2010.
The Trials of Downunder Tennis
The beginnings of Australian tennis championships were humble with only a few foreign players attending, because of geographic remoteness and low prize monies.
In the 1920s, the trip by ship from Europe to Australia took about 45 days. It was 1946 before the first tennis players arrived by plane.
Further, the first Australasian Championships also suffered from competition from the other Australasian tournaments.
Tennis in Australian Summer
Australian tennis follows the good old English tradition of being played in summer (southern hemisphere summer).
With the extreme weather Melbourne in January, this usually means that some of the games are played in 35-45 degree heat; others get the milder summer days of around 25.
With on court temperatures at times around 50 degrees (yes Celsius), the Australian Grand Slam event can be taxing on players and many have suffered symptoms of heat exhaustion.
To handle this problem and to make Melbourne tennis more tolerable, tennis Australia introduced an Extreme Heat Policy in 1998: Once the thermometer hits 35 degrees - while matches in progress must be completed - the roof over the Vodafone and Hisense Arena get closed and no matches commence on outside courts.
Further, the Australian Open introduced a new blue Plexicushion surface that does not retain as much heat in 2008.
Not always in Summer…
Before 1988, tournament dates fluctuated. For example, the 1919 tournament was held in January, the 1920 in March, and the 1923 tournament in August when the weather was not too hot and wet.
In 1976-77, as well as from 1982 to 1985 the Australian Open was held in December, but was then moved to mid-January. Since 1987, the Australian Open January date has not changed.
The Melbourne - Sydney battle
In 2008 Sydney challenge Melbourne as the hosting city for the Australian Open, by putting in a bid for hosting rights to the tournament once Melbournes contract expires in 2016.
In response, the Victorian Events Industry Council was adamant that Melbourne should retain the event.
Since then, a hundred million redevelopment of Melbourne Park has been announced. This will include upgraded seating, a roof over Margaret Court Arena, improved player facilities, new headquarters for Tennis Australia, and a partly covered "town square" area featuring large televisions showing current tennis play.
With these plans largely approved, the Government of Victoria has committed hundreds of millions of dollars to guaranteed Melbourne's status as sports capital and host of the Australian Open.
---
---
Do you like this page? Why not pay it forward with a Facebook 'Like' or Google