The Brunswick Music Festival
The Brunswick music festival is one of Victoria's premier music festivals, showcasing culturally diverse, indigenous, acoustic and traditional local, interstate and international musicians. It has been held every year in March since 1989.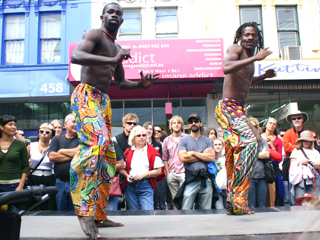 Its program is filled with a classic line up of blues, roots, world and folk with a bit of country, gypsies, pirates, Celts, cowboys and big horns, and is able to attract a brilliant mix of artists.
There are the young independents as well as some of the most revered names in music in Australia.

The festival centres around Sydney Road, Brunswick, an inner northern Melbourne suburb - get there on the #19 tram from Elizabeth St in the city.
Concert venues include the Brunswick Town Hall, a newly historic 1876 landmark on Sydney Road.
There is also the Mechanics Institute of Performing Arts Centre - that is even older.
It has a theatre space, and at the front has a monument to the Free Speech fights of the 1930s. Then there is Penny Black, the Lomond Hotel (Nicholson Street) and the East Brunswick Club (Lygon Street).
Sydney Road Street Party
The Music Festival starts off with the Sydney Road Street Party, which is really one of a kind when it comes to atmosphere and good vibe.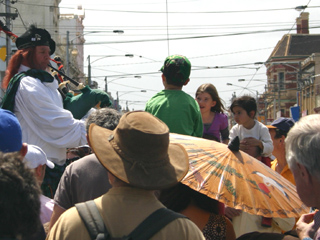 It is the day when the normally traffic packed street is reclaimed for one of the biggest multicultural gatherings in Melbourne.
It's a genuine all-ages day, celebrating peace, understanding and cultural diversity - a day of music, song, dance, kids shows, street theatre, culinary delights from around the globe and market stalls to keep you attired, inspired and informed.
---
---
Do you like this page? Why not pay it forward with a Facebook 'Like' or Google