Fitzroy Shopping -
bohemian, eclectic & original
Fitzroy shopping is one of the real 'Melbourne' things to do.
It is one of the bohemian, retro, and happening precincts with unique local shops.
It has character and a fascinating collection of quaint bars, cafes, eclectic shops and galleries.
One of the great placed to hang out or find something special you weren't particularly looking for!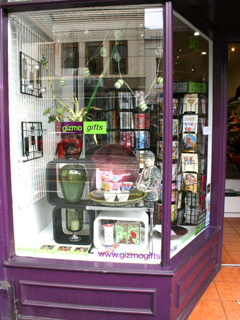 There are lots of unique locally made goods, clothes, jewellery and works of art, as well as fashion, books and great tea, as well as arty flower shops and fresh organic produce.
Life in Fitzroy starts around lunchtime and does not stop till late. Weekends are somewhat of an exception when cafes are filled with people 'doing' breakfast all morning.
The main part of this Melbourne shopping district and cafe scene is along the bohemian Brunswick Street, Fitzroy , on either side of Johnston Street.
You get there on the #112 tram within 15 minutes from the city. This shopping precinct stretches from Alexandra Parade in the north to around St David St in the south.
Have a look into the side streets! Some shops are hidden there too.
On weekends, walk up Brunswick Street and then turn left into Rose Street. This is where one of our favourite markets is held, the Rose Street Artists Market. It is filled with quirky designer clothes, makers' bags and things, jewellery…
Gertrude Street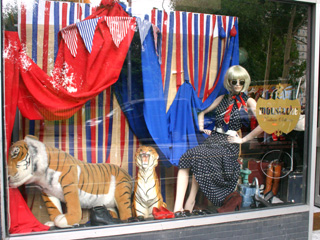 The other Fitzroy shopping area is in Gertrude Street, between Brunswick and Smith Street, which is really the beginning of Collingwood shopping. Gertrude Street is one of the oldest streets in Melbourne, and until the 1990s, was notorious for poverty and crime.
As it was cheap, musicians, artist and other people who did not quite fit, moved there - including Tom Roberts, Charles Gilbert and Arthur Boyd, as well as many more contemporaries. And since the Arts are where future is created, this has become a hip area.
Nowadays, Gertrude Street is trendy and one of the best areas to find something arty and original.
There are many emerging fashion designer and vintage boutiques, cafes, music stores, art stores and galleries. You can get to Gertrude Street on the #112 and #86 trams.
If you have a shop in Fitzroy, you can get it listed on this page with all your web and contact details!
---
What is Your Fitzroy Shopping Tip?
Why not tell us your favourite Fitzroy shopping secrets?
Your Fitzroy Shopping Tips
Click below to see contributions from other visitors to this page...

Northside Records Not rated yet
If you're an avid record collector, like getting you fingers dusty, or just want to check out some good music, you should definitely check out Northside …
---
---
Do you like this page? Why not pay it forward with a Facebook 'Like' or Google