What's On: Melbourne in June
Get your gloves, scarves and beanies because winter is here! Yes it does get quite cold, but there is something magical about the fresh, crisp mornings that it brings. Over the city's horizon, sometimes hot air balloons can be seen floating carelessly over city and suburbs. Melbourne and winter go hand in hand.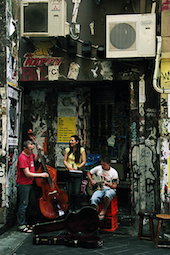 Winter Snow Season
If you're in Melbourne, the best of Australian snow is just around the corner with Mt Buller being just a 3 hour drive from the city. I've been keeping a close eye on the weather so far and I think it's going to be a good year. We've had some very cold mornings so far, with ice on my car for one of them! Mt Buller has amazing deals for tertiary and high school students and is a great all round resort for everyone. If you're a bit more extreme, you should try out Falls Creek or Mt Hotham. These resorts are a little further away, but are definitely worth the trip.
Skiing Australia
---
Melbourne International Jazz Festival
This has sadly ended for this year, but will definitely be back bigger and better next year. Featuring a huge line up of the worlds greatest jazz minds, the festival warms up winter with intimate club sessions, insightful masterclasses and free daily concerts throughout Melbourne.
Melbourne International Jazz Festival
---
Emerge Festival
Organized by Multicultural Arts Victoria, Emerge Festival is a showcase of Melbourne's rich cultural heritage and features artists from refugee backgrounds. The festival Sunday is the main event, but there are plenty of performances and activities all through June. I went last year and saw some amazing performances by African musicians, and I'm sure there will be something to match it this year. Excellent food and free entry this sunday at the Fitzroy Town Hall, 201 Napier St.
Emerge Festival
---
Indian Film Festival
"A celebration of the biggest film industry on the planet"
Indian cinema is always so fun. Many film lovers outside of India have no idea as to how broad their art is. From Bengali art house and Malayalam thrillers to Hindi blockbusters and Tamil action flicks, they hit everybody's sweet spot. Not to mention the soundtracks in them… wow.
Melbourne's Bollywood!
---
Monet in Melbourne
Monet is back in Melbourne! The exhibition Monets Garden is devoted to his garden at Giverny and is a celebration of nature. His work does not cease to amaze with its freshness of colour. His masterpieces are in Melbourne at the NGV until September.
National Gallery of Victoria
---
Melbourne International Animation Festival
Held at the Australian Centre for the Moving Image (ACMI), the festival showcases the best new animation along with a 'diverse collection of themed, retrospective and special programs' for all ages.
Get animated!
---
Circus Oz
The circus is in town this month! Circus Oz has been all around the world with their death-defying stunts, hilarious banter, acrobatic performances and live music, and now they return back to their home city for a winter residency!
Circus Oz!
---
---
---
Do you like this page? Why not pay it forward with a Facebook 'Like' or Google