High End Fashion Shops in Melbourne
High end fashion shops in Melbourne are numerous. Melbourne is the place to shop in the southern hemisphere.
It is also the chosen base for many Melbourne fashion designers that have set up shop or a studio in Melbourne. .

Paris End Melbourne: Collins Street
Collins Street is most famous for its high-end shops. Its upper end is known as the
Paris End of Melbourne.
In this tree-lined boulevard, amongst impressive architecture and five-star hotels, you find the Who is Who of designer clothing, style and glamour.
If you are after high-end jewellery, fashion, shoes or luxury goods from flagship stores, including Chanel, Tiffany and Co. and Louis Vuitton, this is where to go.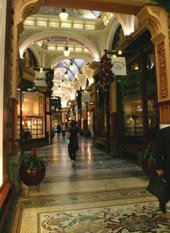 Collins Street is lined with heritage buildings and was built on the riches of the Victorian gold rush. This is evident in the striking architecture along its entire length, ranging from historic Gothic to Art Deco.
A little further down Collins Street, just across Swanston Street, you will find the stylish shopping centres of Australia on Collins, Collins two3four, and Collins Place, all with a multitude of fashion, home ware and gift stores.
Block Arcade
Further down is the Block Arcade, which has the most exclusive specialty shops in Melbourne. It is the most famous arcade in Melbourne and connects Collins, Elizabeth and Little Collins Streets with iron-lace walkways, elaborate Italian mosaic floors, which is the largest in Australia, and an impressive glass dome ceiling.
Built in 1891, it takes you back to the money, style and abundance of the gold rush heydays. The Block arcade got its name from the tradition of doing the block and parading ones fashion around this most fashionable Melbourne block.
Little Collins Street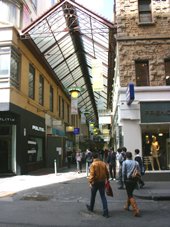 Little Collins Street is the younger sister of Collins Street. Here you find many designer boutiques, haute couture, funky styles, shoes and fashion as well as the best menswear shops in Melbourne. This is the area for the discerning shopper and also a great place to relax and unwind after shopping, with many cool bars and cafes to choose from.
Off Little Collins Street, between Swanston and Elizabeth Street, is Howey Place, a covered lane, flanked with small designer fashion shops.
On the other side of Little Collins Street is the Royal Arcade with lots of small shops and boutiques. It is even older than the Block Arcade. Built in 1869, it connects Little Collins and Elizabeth Streets with the Bourke Street Mall.
This distinctive Victorian Arcade, with its high glass roof and windowed stores, is not as lavish as the Block, but worth the experience. It displays the statues of the mythical figures Gog and Magog and a charming clock that chimes on the hour.
Other High End Shops in Melbourne
There is also the more general
city shopping Melbourne,
where you will find high end fashion mixed in with department stores and many boutiques and eateries.
The Crown Casino and Entertainment Complex at Southbank houses also a range of high end shops and boutiques, as well as many bars, restaurants and the casino, along the picturesque Yarra bank. It is a bit more geared towards tourists.
Southeast of the city, there is Chapel Street, Prahran, where you will find some of the best fashion shops in Melbourne. It has sophistication and style with many popular brand stores as well as designer labels, fashion boutiques and chic cafes. Katie Holmes apparently went shopping there and it is a place to be seen. It is also a great place to enjoy stylish wining and dining.
And at last, there is the largest shopping centre in the Southern Hemisphere, the Chadstone Shopping centre. It is divided into two sections, one of them exuding fashion, class and style. Here you will find any label, from fashion to interior decor. The advantage is that you do not have to walk far between them, but it is really not so obviously Melbourne either.
And, twice a year, there is a Melbourne Fashion Week, where you can eye the latest and get new fashion ideas and inspirations.
---
Which High-end Melbourne Shops do You Recommend?
Do you have any luxury shopping tips - your favourite Melbourne boutique? I'm sure others would appreciate hearing your extravagant shopping experiences!
Your High-end Melbourne Shopping Experiences
Click below to see contributions from other visitors to this page...

Sandringham Shopping and more Not rated yet
Sandringham is an attractive classy bayside suburb16 km south-east of Melbourne CBD. It began as one of the early estates in the mid 1800s. It is popular …
Ascot Vale Shopping Not rated yet
Ascot Vale is a suburb the west of Melbourne, close to the city. It stretches from the Maribyrnong River in the west across to Moonee Ponds Creek. …
---
---
Do you like this page? Why not pay it forward with a Facebook 'Like' or Google