Water Activities Melbourne
You can find a vast array of water activities in Melbourne. Because of its varying climate, Melbourne offers a large diversity of water environments and activities - you just got to get the weather right!
And if the weather is really too bad, there are a number of indoor swimming pools in Melbourne, such as the City Bath and the Albert Park Aquatic Centre.
The Yarra and Albert Park Lake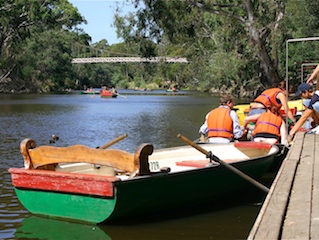 Right through Melbourne and the attractive inner suburbs winds the iconic Yarra River. From the river you have a great viewpoint of Melbourne.
You can kayak and canoe along the Yarra - there are even some kayak tours that take you along our most famous waterway. It is an ambient and personal way to see the surrounds of the city.
You can also go rowing on the Yarra. There are various rowing clubs that, next to their regular activities, also offer casual sessions and lessons. Another place to row is at Albert Park Lake, where you also can join a club, learn to row or do some casual rowing.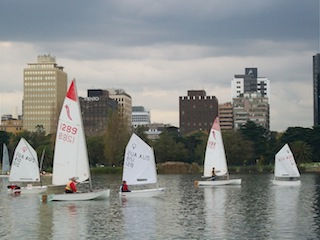 One of the fun family water activities in Melbourne is to hire a kayak or row boat for an hour or so at Studley Park Boat or Fairfield Boathouse.
Being located in the Yarra Bends, both are accessible via the Yarra bike and walking trails, and by car. The Yarra is at its best there as it winds through the natural environment of the Yarra Bend Park.
The other thing you can do at Albert Park Lake is to learn is to sail. There are various clubs, making their dinghy boats available for sailors of all ability and age. Even the kids can learn to sail there.
Melbourne Beaches in Port Phillip Bay
There are beaches pretty much all along the east side of Port Phillip Bay, the inner ones being Port Melbourne, Middle Park, St Kilda and Elwood. St Kilda is the most popular and bustles with beach activities such as sunbaking, beach volleyball, some swimming, kiteboarding, stand-up paddle boarding, biking and walking.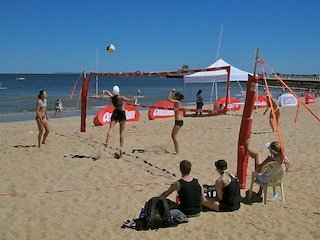 These are Bay beaches, not surf beaches, with no a only small waves. They are great for swimming and other water sports. The water does get cleaner and more attractive the further away you get from the city. Many people prefer to swim further along the Bay.
Kiteboarding has become one of the most popular water activities in Melbourne. In kiteboarding you harness the power of the wind via a kite to propel yourself through the water on a small board. It gets pretty wild and fast. You can get lessons at various schools and be off and kiting in no time. This is for the windy days!
On calm days, stand-up paddle boarding is a fashionable alternative. This is when the paddler stands on a rather large board and uses a paddle to propel him or herself through more or less calm water. There are places around St Kilda where you can try out stand-up paddle boarding. It is not as easy as it looks!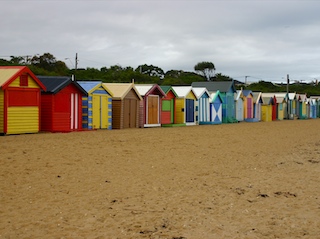 A bit further south From St Kilda is Brighton Beach, which is famous for its colourful beach huts. Then comes Sandringham, Black Rock with unique rock formations. Beaches continue all the way to Frankston and then into the Mornington Peninsula, getting more pristine the further you get away from Melbourne. They are clean, relaxing and great places for a swim.
The western side of the bay primarily holds wetlands and bird sanctuaries, with only a few small beaches at Williamstown, Altona and Geelong.
Snorkelling, Scuba Diving, Kayaking, Dolphin and Seal Watching
At the ocean end of the Bay you'll find the most amazing marine environment and unique eco system. This is one of the best places for water activities in Melbourne. Being located between the cold Southern Ocean and the relatively warm and protected Bay, you have the opportunity to see rare marine life, such as soft coral and the sought after Weedy Sea Dragons.
There are various Bay areas that are fantastic for snorkelling and scuba diving. You can hire a boat or kayak, attend a dive schools or take a tour that takes you snorkelling in this very unique marine environment - you might even catch a glimpse of the Weedy Sea Dragon.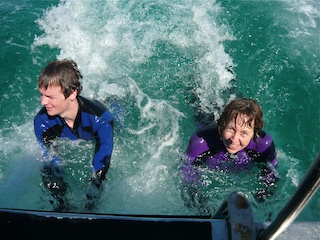 Paddling these areas with a sea Kayak is a perfect way to encounter dolphins, penguins and seals, close up. Eco Kayak tours and Kayak hire is available.
If that is not you, there are also small boat tours that take you to see and swim with dolphins, a seal colony and snorkel a marine park teeming with colourful fish and marine life. Here is our experience of swimming with the dolphins with the Melbourne skyline behind us.
Sailing and Game Fishing in Melbourne
Sailing is one of the most exhilarating water activities in Melbourne. You will find various sailing clubs along the Bay - from Altona, to Williamstown, St Kilda, to Brighton and Mordialloc and beyond - offering Dinghy, Catamaran and Keel Boat sailing.
There you can learn to sail and get involved in training and racing, you can hire a sailboat, or take a luxury charter cruise out into the Bay and beyond. Some sailing schools specialise in corporate team building activities.
Fishing is another of the water activities in Melbourne. There are fishing charters and big game fishing adventures that take you out into the Bay, catching snapper, giant flathead, squid elephant fish or shark in the Bay. These charters also cater for corporate teams and events.
Surfing
Outside the Bay are the surf beaches. These stretch to the east along various Melbourne beaches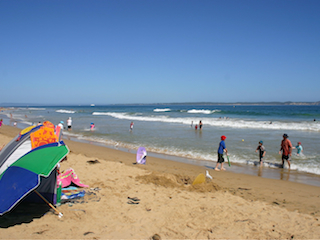 down to Wilsons Prom and beyond, and to the west all along the Great Ocean Road.
The world famous Bells beach is about 1½ hours out of Melbourne and hosts international surfing competitions.
Surfing Victoria has a firm place on the international surfing map and Bells Beach hosts the annual Rip Curl international surf championships in April. It may be cold but you get the unique opportunity to catch large winter swells created in the Great Southern Ocean and Bass Straight.
---
---
Do you like this page? Why not pay it forward with a Facebook 'Like' or Google